Are you worried by the challenge of installing or repairing 'like-for-like' timber joinery, windows and doors in grade-listed buildings in a conservation area or Area of Outstanding Natural Beauty? We'll help you through the minefield of planning and Grade 2 listed building regulations to achieve 'window and door Nirvana' – and please local authority conservation officers along the way…
Read on, or for immediate help call 01724 847181 or email us
The Parkwood approach to Grade 2 listed buildings
For your peace of mind, we can liaise with your local conservation officer in pursuit of that coveted listed buildings consent. At their request, we'll supply full-size section drawings detailing our traditional joinery profiles for approval. It's another way you benefit from our architectural joinery experience with sensitive heritage and Grade 2 listed building projects.
Our joinery solutions typically incorporate modern wooden-window design features for compliance with demanding heat and noise insulation, security, means of escape and other specifications. Customers and local planning authorities like the way our elegant factory finished timber window and joinery designs enhance and complement projects' architectural style and appearance.
What's more, our 'like-for-like replacement windows' are accurate to the tiniest detail, use the latest door and window manufacturing technology and have high specification Slimlite double-glazed units to fit 'planning friendly' single-glazed timber profiles.
Here showing our typical 'Flush Casement Window, glazed with the 'SlimLite' insulated glass units. (click to view a larger image)
Inside view showing our elegant lambs tongue mouldings, here on a single glazed window. (a 5p coin rests on the flat to show scale)
Where conservation officers apply stricter approaches to original detail (e.g. for Grade 2 listed buildings), there's single glazing. We also offer Slimlite glazing where a less stringent Grade 2 listed approach is permitted. If higher performance glazing is required, Slimlite may be considered where windows to be replaced aren't original – or part of the listed building..
NOTE: Slimlite glazing is designed to fit into single-glazed sections and profiles and shouldn't be confused with actual single glazing.
We also fit appropriate architectural door and window furniture to replacement windows (in the style of those removed) or new windows that will exist alongside old ones (e.g. when extending Grade 2 listed buildings). Finally, modern sprayed paint finishes match the colour of existing joinery. We'll also guide you on routine future maintenance.
After decades' experience (including working with conservation officers), we relish the challenge of grade listed buildings, heritage joinery and the attention to detail demanded of our craftspeople.
Heritage conservation range
Our Heritage conservation range of windows and doors often meets conservation area guidelines while following latest recommendations for comfortable, energy-efficient homes.
Behind this range is our desire to reinvent traditional sash and casement windows, while incorporating key features demanded by environmental and architectural heritage issues. We retain traditional aesthetics, functionality and proportions, while faithfully replicating window sections and sizes (including height-to-width ratios, transom and mullion positioning). This is often the way to meet Grade 2 listed building restrictions while achieving desired aesthetics and performance.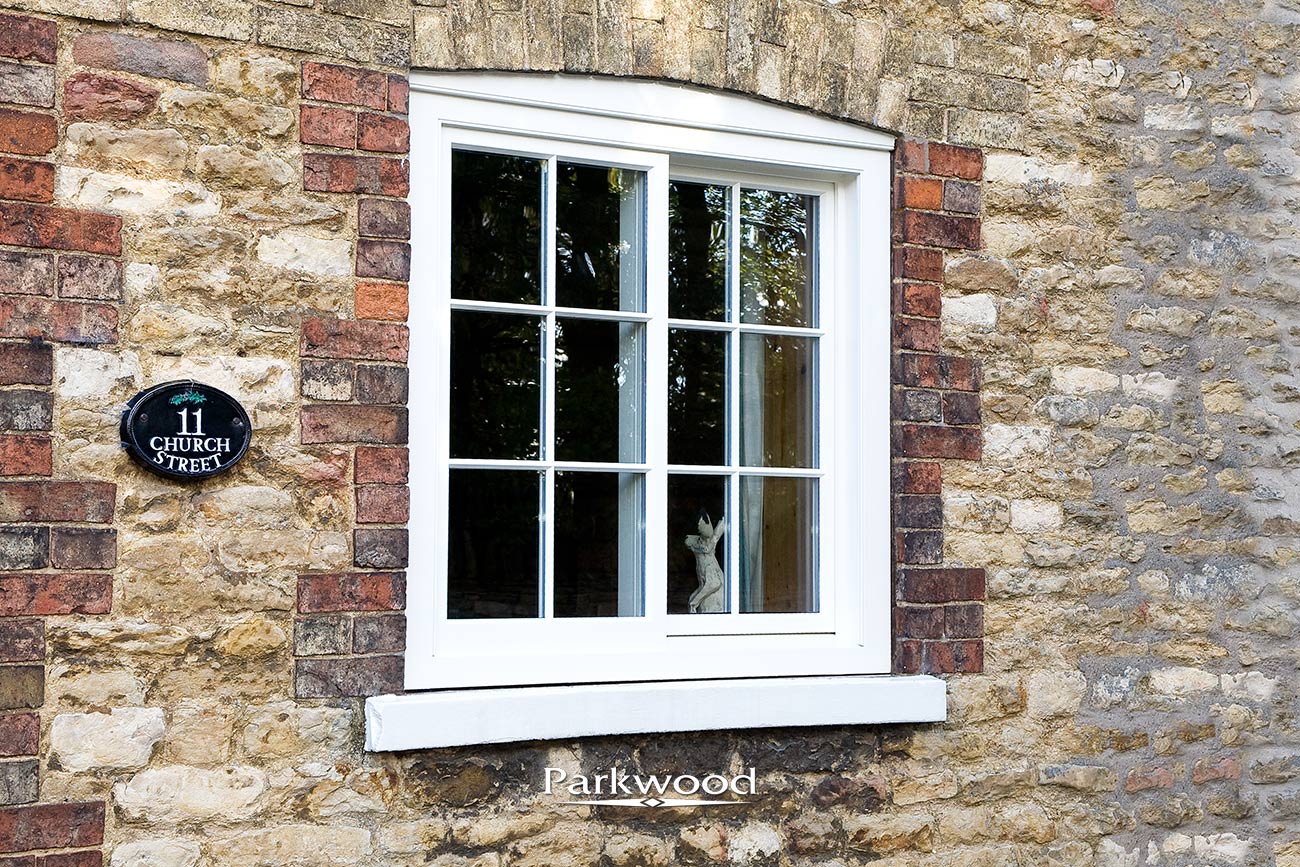 Move your mouse over the image above to see a 'Before & After' Parkwood installation.
You can also enjoy high performance glazing in windows with delicate single-glazed timber sections and elegant lambs tongue glazing bars.
Choose between different types of windows: for instance, our traditional Heritage Range windows with mortise and tenon frame construction, and original ovolo window-frame mouldings. There's patent-protected Slimlite glazing too, with its innovative technology and super-thin double-glazed Slimlite glass units that are factory sealed into the sash rebates to meet architects and conservation officers' requirements. The units are virtually undetectable and don't alter traditional window appearance, sections and profiles.
NOTE: Slimlite glazing is designed to fit into single-glazed sections and profiles and shouldn't be confused with actual single glazing.
Imagine U-Values of 1.2 W/m2K and flush casement joinery with the traditional details that you and your conservation officer want for a grade-listed building. You can specify related architectural hardware such as casement stays and fasteners, butt hinges and mortise locking. And timber profiles that include flush casement joinery with puttyline appearance (no putty-type compounds needed) and discreetly-grooved weather seals in sections and profiles.
Maintaining the charm of traditional windows and doors
In maintaining the charming fenestration of traditional joinery in Grade 1 and Grade 2 listed buildings, we only use sustainable timber from naturally-durable species. For the ultimate joinery material, there's A-grade Accoya®, the world's leading high technology modified timber. Accoya is created from sustainably-sourced timber for exceptional durability, stability and strength with top environmental credentials.
Last but not least, your external joinery, windows and doors will be factory painted onto 'clear grade' naturally-durable timbers with multiple coats of spray-applied Sikkens and Teknos stains, primers, intermediate primers and top coats. Subsequent painting during maintenance is brush-applied on site.
Whether you're a specifier or property owner, imagine how our skills, experience and knowledge of windows for listed buildings will take the worry out of conservation fenestration.
If your project involves Grade 1 or Grade 2 listed buildings and conservation areas, peace of mind starts when you call