There's something special about a carefully sourced slate, limestone or granite work top. No wonder you're considering such a stylish finish for your kitchen. Whatever you choose, you're in safe hands with such experienced suppliers of granite worktops, other stone countertops, and solid surface worktops made from beautiful hardwoods. And now we offer beautiful limestone flooring too…
Read on, or for immediate help call 01724 847181 or email us
Beautiful solid surface worktops
With years of enjoyment and practicality at stake, you can look forward to luxury kitchen countertops that combine carefully selected natural materials, precise manufacture and efficient installation.
Experience shows that the quality of your wood or granite worktops will be a talking point for years – a striking kitchen highlight that will be remembered long after price is forgotten (you may be surprised just how affordable granite is!).
We're sure you'll love how we work closely with you to choose your material in exactly the right colours. Because natural stone varies considerably, you can be sure of painstakingly engineered stone surfaces that will be unique.
The art and craft of manufacturing granite work tops
Maybe you just want an understated 'grey granite' or 'solid oak' for your work surfaces? Or perhaps you've a specific local limestone or Cumbrian slate in mind for your stone worktops? Whatever your preference, the 'solid surface magic' begins when you commission us to craft your kitchen. That's when we help you choose the perfect worktop material for years of great looks and performance. Here are just a few types of worktop materials that we use:
• Limestone (inc. Chatsworth limestone).
• Grey granite (and a wide range of other granite colours).
• Marble.
• Oak and other hardwoods.
• Cumbrian slate (worktops made of this beautiful material are consistently popular).
Ask about the wide choice of materials available for stone and solid wood worktops – and our new range of luxury limestone flooring
Your solid kitchen surfaces are never an afterthought. As your kitchen takes shape, we help you finalise every detail of your kitchen worktops – the little things that will delight you whenever you use your kitchen. Then our craftspeople select, blend, shape and engineer your chosen materials into the solid surfaces of your kitchen counters.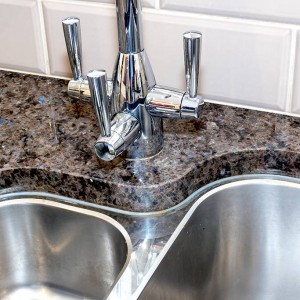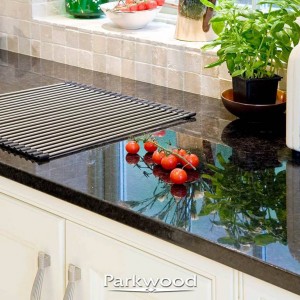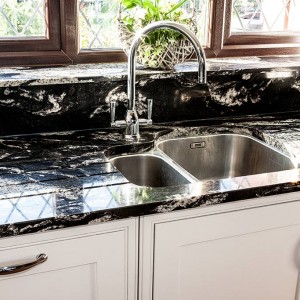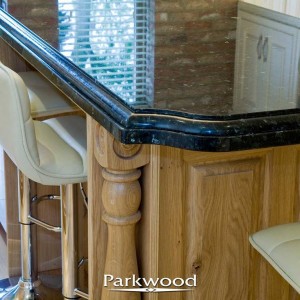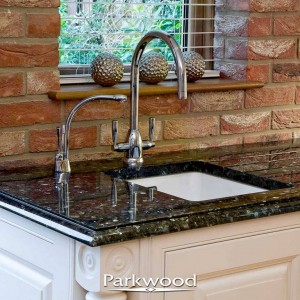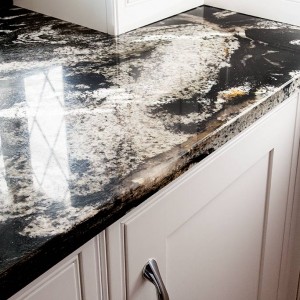 Every luxury kitchen worktop is installed by us
Whether you love granite surfaces or distinctive limestone worktops, or you want something even more exotic, our solid surface craftspeople will meet and exceed your expectations. No surprise there: with most of our kitchens featuring work tops of granite or another stone, we're used to working magic with such timeless materials.
Naturally, having put so much care into your kitchen worktops, we'll make sure they're installed to a similarly high standard. That's why every worktop we make is lovingly installed by us – not by a third party.
What material will you choose for your solid surface worktops? Take the first step to deciding
call 01724 847181 or email us