You want beautiful new wooden heritage windows that meet conservation area guidelines and have the latest provisions for warm, secure, energy-efficient homes. With that in mind, and backed by decades of experience crafting bespoke heritage joinery, we reinvented traditional casements and sashes. Discover why the remarkably affordable windows and doors in our premium Heritage Range are for discerning specifiers and property owners like you…
Read on, or for immediate help call 01724 847181 or email us
Heritage windows with the modern features you want
Over three decades, we've lost count of how many heritage windows and doors we've made for projects inside and outside UK conservation areas and Areas of Natural Beauty. Like the architects, conservation officers and discerning customers before you, we're sure you'll love the combination of traditional aesthetics and advanced performance that respects the structural integrity of your property and enhances its character.
What's more, having designed and crafted different types of windows for conservation applications, we regularly help customers by approaching conservation officers on their behalf. It's a specialist area and we talk officers' language – it can make things much easier for you and it's all part of our service.
Once we start work on your heritage windows, our design team and traditional carpentry workshop go into action. They have one objective: to delight you with perfectly-fitting sash or casement windows that will be durable, secure and weatherproof – and give you pleasure for decades. We achieve this by combining traditional skills and the latest bead joinery methods in our different window styles.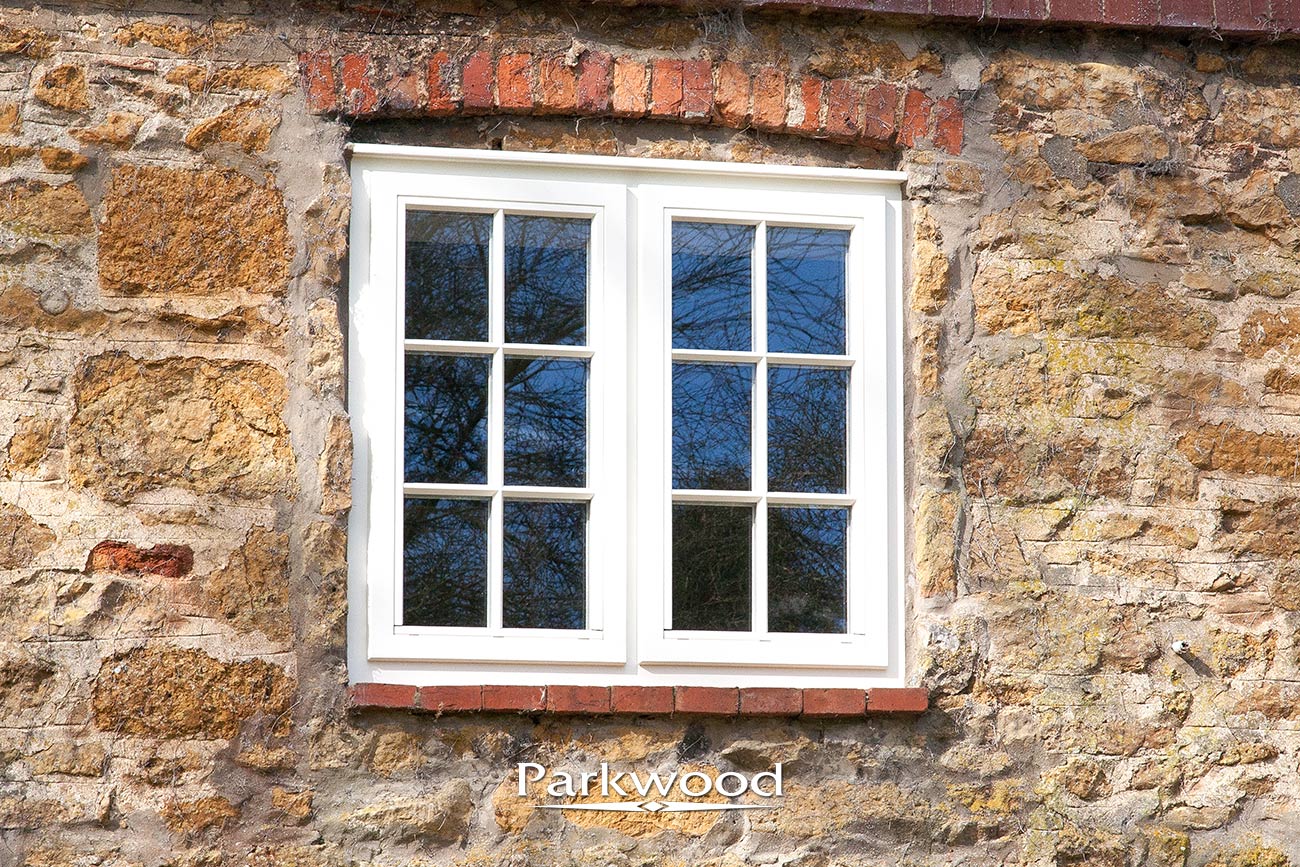 Move your mouse over the image to see a 'Before & After'
Here are some of our Heritage Window features that address architectural and heritage issues, ensure traditional looks and operation from your double glazing, and include the latest energy saving and security:
• Classic proportions, faithfully replicated sections and authentic profiles.
• Traditional height-to-width ratios, positioning of transoms and mullions, and glazing aperture divisions; flush puttyline casements and ovolo frame mouldings.
• Impressive U-Values: Our window frames and Planitherm A-rated glazing achieves an excellent U-Value of 1.2 W/m2K.
• Elegant glazing bars with traditional lambs tongue mouldings.
• Discreetly-grooved weather seals within profiles and sections. Bottom-fitted beads, drainage channels and ventilation grooves drain water away so it doesn't get trapped and cause swelling damage.
• Traditional mortise and tenon construction that you expect from heritage joinery.
• Architectural hardware casement stays and fasteners, butt hinges and mortise locking.
• Modern high-security multipoint locking.
• Ultra-thin Slimlite glazing units that architects and conservation officers regularly approve – they look just like the traditional frames that inspired them.
Slimlite glass units are energy-rated windows designed primarily for conservation areas and Grade II listed-building extensions. With conservation officers' approval, they can also be used in Grade II listed buildings.
NOTE: Slimlite glazing is designed to fit into single-glazed sections and profiles and shouldn't be confused with actual single glazing.
The art and craft behind your heritage windows
Like you, we care for the environment. That's why our heritage windows only use timber from naturally-durable species and selected A-grade Accoya® modified timber – the world's leading high technology modified timber. Accoya is engineered from sustainably-sourced softwoods such as Siberian larch to give exceptional durability, stability and strength with the best environmental credentials.
As you can see, we combine the latest joinery techniques, traditional craftsmanship and superior timber in elegant, functional window frames. Then your double-glazed casements are factory painted with sprayed Sikkens moisture-vapour-permeable (breathable) paints or factory-stained with alkyd acrylic coatings. Naturally, we also advise on the brush-applied paint coats to be applied later during ongoing on-site maintenance. This is vital to maintain the condition of your windows
Traditional heritage joinery meets the latest innovation
Having manufactured, painted or factory-stained your heritage windows, we won't leave the fitting to just anyone. That's why we only entrust installation of our conservation joinery to our own experienced team.
Our heritage windows combine the traditional characteristics that architects and conservation officers love with the features and durability enabled by modern technology. Discover more about our Heritage Ranges
call 01724 847181 or email us